THE LETTER LEAGUE
The Letter League tells the story of Queer artist Heather Spooner and the adult pen pal program she created during the 2020 pandemic, featuring the poignant and humorous stories of connection and humanity that came from it.
Website: letterleaguedoc.com
​
​
IT'S NOT A BURDEN:
The Humor and Heartache of Raising Elderly Parents
A feature-length documentary that provides an intimate, humorous and heartfelt journey into the challenges and joys of adult children caring for their aging parents.
Website: itsnotaburden.com
​
​
PACKED IN A TRUNK
The Lost Art of Edith Lake Wilkinson
PACKED IN A TRUNK, the Emmy® nominated feature-length documentary, uncovers the story of lesbian artist Edith Lake Wilkinson, committed to an asylum in 1924 and never heard from again. We follow the journey of Edith's great-niece as she pieces together the mystery of Edith's life and returns her work to Provincetown.
Website: packedinatrunk.com
For more information on the artist, Edith Lake Wilkinson:
For more information on the composer, Danielle Ate The Sandwich:
​
PACKED IN A TRUNK originally premiered on HBO in July 2015
and after a successful run on NETFLIX is now available to stream everywhere you buy/rent movies online. You can purchase the film on DVD from WOLFE video at:
https://www.wolfevideo.com/products/packed-in-a-trunk-the-lost-art-of-edith-lake-wilkinson
A FINISHED LIFE:
The Goodbye & No Regrets Tour
A FINISHED LIFE follows the "Goodbye & No Regrets Tour" of Gregg Gour, a 48-year-old gay man with AIDS, who, when given six months to live, takes the road trip of his life.
​
Available on: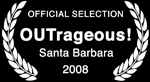 LAWS OF ATTRACTION:
An Artist Couples Documentary
The documentary short film, commissioned by CFAER (Center For the Arts Eagle Rock) examines the invisible connection between artist couples. This film accompanied THE LAWS OF ATTRACTION: An Artist Couples exhibit presented in 2011 at Center For The Arts, Eagle Rock.
The film can be viewed on YouTube (in 4 parts):
THE BEDWETTER
(Narrative Short, 2009)
THE BEDWETTER is a quirky and off-beat coming of age story set in 1975 that follows Shelly, an almost 11-year-old Tomboy who wets the bed, gets bullied at school and has to deal with her new Stepmother, a glamorous former Stewardess, who wants to throw her a birthday party.
​
Available on:
TINA PAULINA: Living on Hope Street
(Documentary Short, 2005)
Tina Paulina: Living on Hope Street is an inspirational look at a homeless lesbian living on the streets of Los Angeles.
Included on "The Ultimate Lesbian Short Film Festival DVD (2005)
Available on:


YOU'RE STILL YOUNG
(Narrative Short, 2004)
BECKY, a despondent 16-year-old, is approaching a crossroads. She has just lived through the worst weeks of her life and is at the end of her rope. She's in love with a girl at school and is suffering from the alienation that is not uncommon for a sexually confused teen. Seeking solace at the local diner, she takes stock of her situation and contemplates suicide until a mysterious stranger, REBECCA, takes an interest in her life, her pain and, most importantly, her future.
HI, YOU'VE REACHED DAVE'S APARTMENT
(Documentary Short, 2001)
Hi, You've Reached Dave's Apartment is a glimpse into the day-to-day life of director Barbara Green's 41-year-old Schizoprenic brother.